Cooking time
40 minutes – 1 hour
Duck curry is one of Fiji's favourite dishes. Although leaning a bit on the pricey side, Fiji's ducks are usually of premium and organic quality. Usually raised for subsistence farming, some ducks are sold off for side income but they come at a premium cost as they take quite some time to grow into adults and therefore require more feed. They are also not the easiest protein to access in local shops and people usually travel long distances to rural areas to find ducks for sale.
On the other hand, most of the duck meat found in overseas countries come packaged and frozen in supermarkets. These have quite a different taste to their Fijian duck cousins especially because they are frozen and also because of the difference in breed. We have found frozen ducks in Australia to be of premium quality and value but they often lack the freshness and flavour of Fijian ducks. Australian ducks sold in supermarkets have 'long necks' and higher fat content while Fiji's ducks have shorter necks and are more on the muscular side.
This duck curry recipe was made using an Australian duck and the meat was a lot more tender than Fiji's duck curry. In Fiji, to soften tough duck's meat I have seen people place a metal spoon into the pot while cooking – this surprisingly works! So if your duck is often on the tough side, try this method and see if it works for you. If your duck has a lot of feathers still attached, burn them off on an open fire like a stove. The method shown in the picture below may be a bit extreme but a relative didn't want the smell of burning feathers in the kitchen so used a blow torch in an outdoor shed!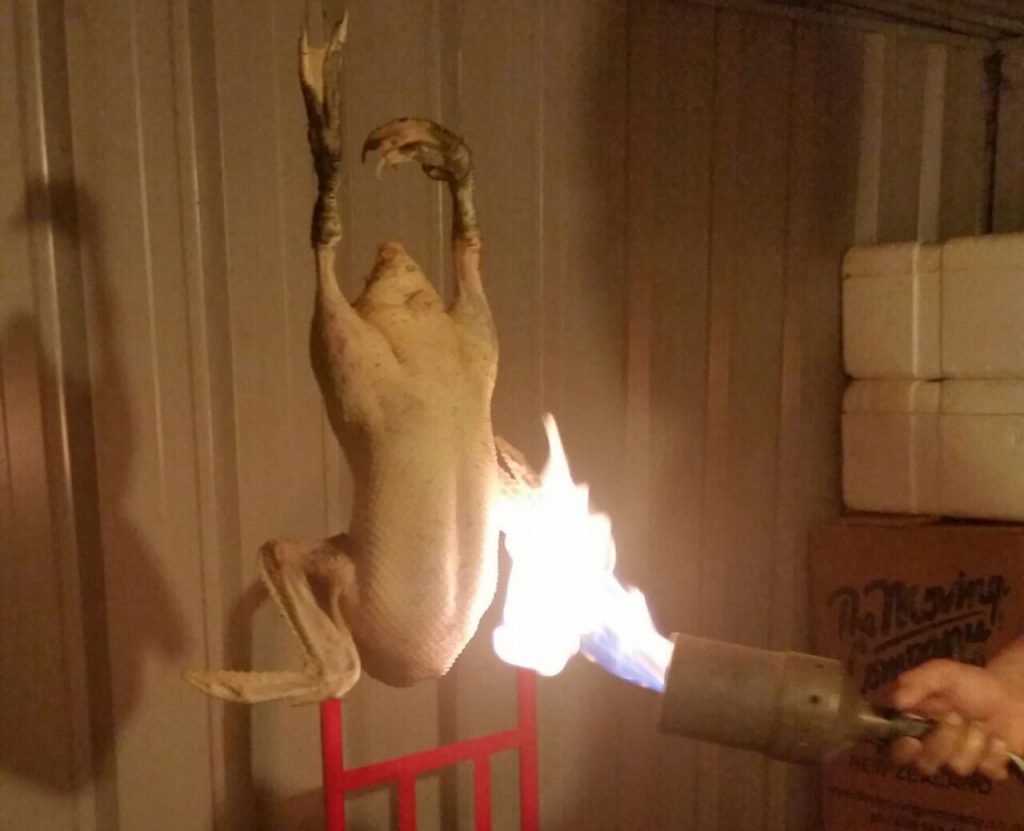 Our recipe is quite simple but to make a good duck curry there are two essential things to keep in mind. One is the amount of oil/fat and the second is the amount and type of masala. The amount of oil should exceed what you normally use, I use roughly ¼ cup oil to properly fry the meat. Make sure at least ⅓ of the duck skin is intact as the fat from the skin is essential for the duck curry to taste right. We made the mistake of removing all the skin once and the result was a duck curry lacking in flavour. The second essential item is the masala. It should be fresh and aromatic. If you use weak masala powder, it will not taste as good as it should.
Finally, remember that duck meat is meant to be tougher and darker than chicken. Don't be disappointed if you're using frozen duck and the flavour isn't right, that is just a trade off for not being able to get fresh duck meat. Enjoy the curry with some dhal and roti and you will be licking your fingers!
Print
Ingredients
1.5 kg whole duck, chopped into curry pieces (⅓ skin on)

1 tsp cumin seeds

1 tsp mustard seeds

½ tsp fenugreek seeds

10 – 12 curry leaves

1 large onion, sliced lengthwise

2 Tbsp Masala Powder

1 Tbsp Turmeric Powder

¼ cup oil

1 inch piece ginger, crushed

1 bulb garlic, crushed

Chillies – to taste

Salt – to taste

Coriander – garnish (optional)
Print
Directions
In a glass bowl, placed the duck meat and add turmeric powder, garlic, ginger and chilli paste and place in the refrigerator for 30 minutes to marinate
After 30 minutes, in a large pot add oil and heat. Then add curry leaves, cumin, mustard and fenugreek seeds and let them crackle and pop till they release an aroma
Add onions and cook till reduced and golden
Add the duck meat and desired amount of salt. Cook for 15 minutes and add ½ cup of water if it begins to stick to the bottom of the pot. Lower to medium heat
After 15 minutes, add the masala and mix through evenly. Lower heat and add ½ cup of water. Let simmer for another 15 – 20 minutes. Make sure to stir every 5 minutes and add more water (¼ cup) if the gravy is sticking to the bottom of the pot
Once the oil surfaces and the remaining water has dried, take it off the heat, garnish with coriander and serve hot with dhal, rice or roti (or bread).