Idli is a very simple snack (or part of a meal) to make. My family did not make idli as it was not part of our cuisine. But I grew up eating this at vegetarian restaurants in Fiji. When I was married, my mother-in-law taught me how to make this amazing and simple food. It is a part of the South Indian diet and very popular in Fiji. Mum-in-law was also kind enough to pass down some of her precious idli steamers so that we could enjoy it too. It was handed down from her dear mother and now has passed down to me. It is such a beautiful thing, being able to use something so old and sentimental. Cooking with it gives me a great sense of connection to a grandmother (in-law) that I never got to meet and only heard wonderful stories about. I hope to one day pass it onto the next generation and continue with the years old tradition of making idli for the family.
This recipe is my mother-in-law's and I have been able to recreate it successfully a few times and my husband has been able to make some himself too. It is a very easy recipe, you just need an idli steamer (pictured below). You can get this in any Indian shop that sells homeware. You will also need a steamer (pot), but you can make your own by placing water at the bottom of a medium sized pot and propping the steamer on top of a heat safe bowl. I have used a large rice cooker's steam function which has worked great for me.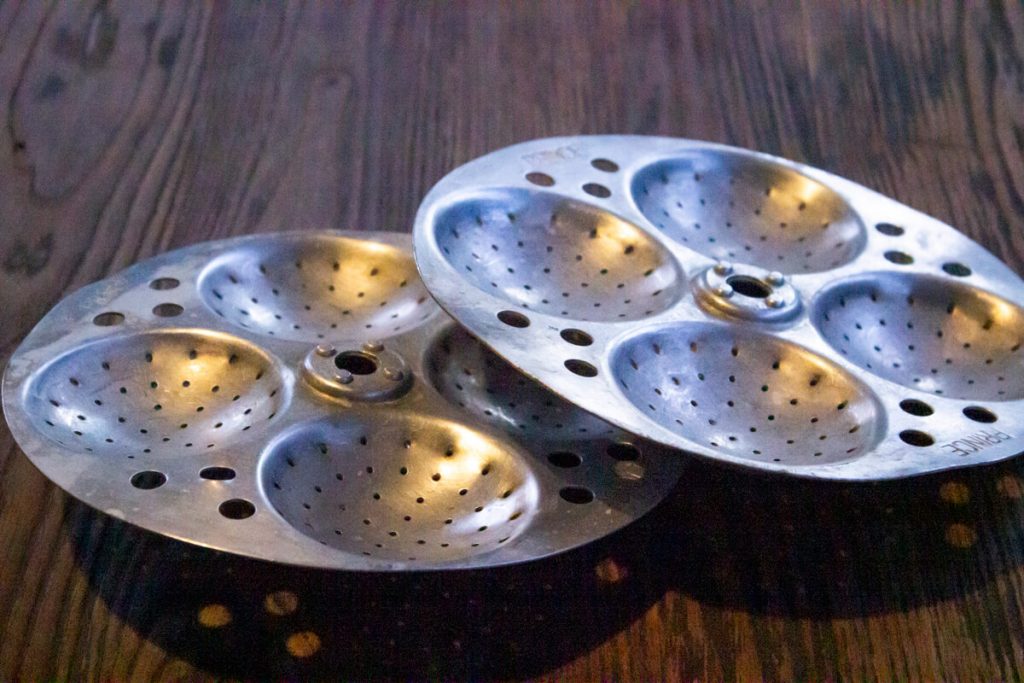 The semolina (suji/sooji) that you use for this recipe should ideally be coarse as it will have a better texture than if using fine semolina. Also remember to rest the mixture for 10-15 minutes so it is able to absorb the moisture and allow you to add more water if need be. The consistency of the mixture should be similar to gulgula; a thick batter like mix. Eno is also a very important component, it helps create bubbles inside the idli so it becomes light and fluffy within and not a solid mass. Some families traditionally add fried spices into the mixture such as curry leaves (tej patti) and jeera (cumin seeds) to add extra flavour but plain idli is the quickest and easiest to make. Enjoy idli as a side dish or as a snack, it goes well with coconut (nariyal) chutney.