Chillies preserved in vinegar is a perfect side for Indian curries. If you are Indian or love Indian food, you will love this very simple recipe. It is a spicy, tangy and flavourful complementary side to curries. In Fiji, the perfect chillies for this recipe would be the wild ones. They are known as 'junglee mircha' and are very spicy. However, the bongo mircha (chillies) are very delicious as well as spicy too.
Some people love to eat fresh chillies with their curries but for others it's a bit too hot to handle. So by preserving the chillies in vinegar, you can still get the beautiful taste without the extra heat.
This method also ensures that the large supply of chillies in your garden during the hot months does not go to waste. So if you have them in excess, you can freeze them for the cold months or preserve them in vinegar.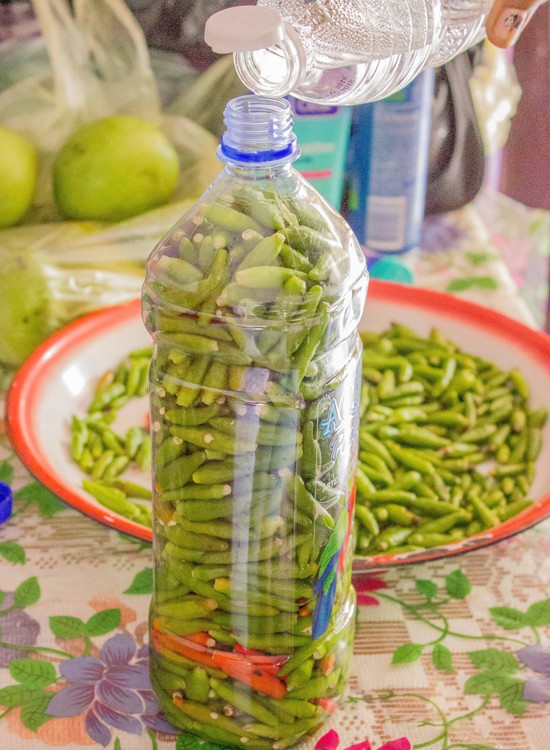 Be sure to get a large glass bottle or jar. Because they are to be kept for a few months for maximum flavour, avoid using plastic containers or bottles. Plastic bottles (similar to the picture above) can be used for a short time only. This helps avoid toxins from dissolving into the vinegar.
Because you want maximum flavour, use some quality vinegar to add that extra oomph.
You only need two ingredients and some time for this recipe.
Ingredients
Small Chillies (Junglee Mircha) or Bongo Chillies
1 L White Vinegar
Directions
Wash and dry the chillies in a large tray. Place the tray out in the sun for a day to ensure no moisture remains in the chillies. This prolongs the life of the chillies
Wash and completely dry a glass jar
Fill the jar with the chillies and top with vinegar. Make sure all the chillies are fully submerged in the liquid
Tightly close the lid and let the chillies soak up the vinegar for at least a few weeks
During hot months, store in the refrigerator to avoid fungi growth
Serve with curries. Be sure to use dry utensils to serve the chillies. Moisture is the enemy!
Keeps for 6-8 months.