Kai, nakai or river mussels are a favourite in Fiji. Usually made with coconut milk in a fresh soup or as a curry. The name 'nakai' came about as a combination of two words, na and kai which loosely translates to 'the mussel'. This name was created by the Indian population as these river mussels aren't aren't so popular in India and they didn't have a name for it when the Indians first arrived in Fiji. Now this word is a part of the Fijian-Indian local vocabulary and used very widely across the country to identify river mussels.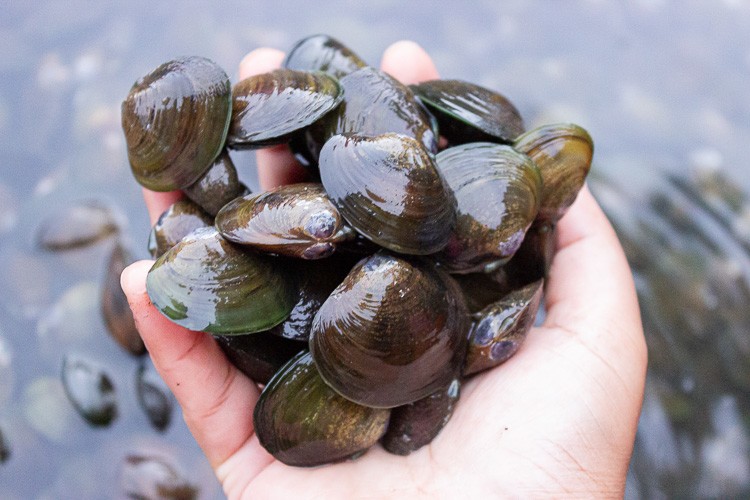 There is another type of mussel that is popular in Fiji called the kaikoso and is often cooked in coconut milk and had with nama (sea grapes). Nakai and kaikoso have two very distinct tastes, nakai is fresh water based and can be collected from the river bed while kaikoso is sourced from the sea at low tide when the sand stretches out for kilometers ahead. It is a difficult seafood to retrieve as they are found at the bottom of the riverbed and harvesting them from the deeper parts of the river requires the skill of knowledgeable divers. Fiji's local nakai collectors are experts in their trade and often use inflated tyre tubes as guides when they dive deep into the river. If you pass by the Ba, Rewa or Sigatoka river and notice black tyre tubes in the distance, you'll know there are some hard working divers out there collecting this beautiful seafood. When it rains however, they aren't able to collect the nakai as sediment gets disturbed on the river bed and makes visibility very low. Conditions under water also becomes quite rough with the strong flowing water currents from streams that connect to the river.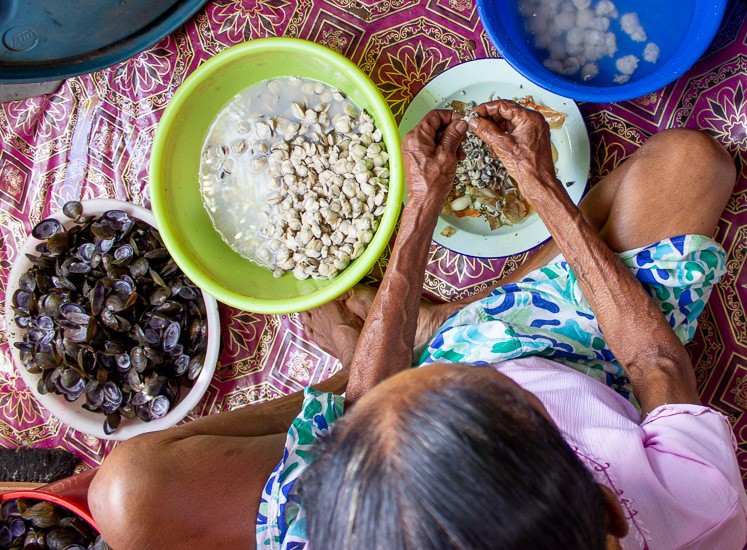 One good tip to buying nakai like all seafood is to make sure it has been freshly caught. The older the nakai gets, the more rubbery the texture will be when cooked. You can't really tell by looking at the shell, but be sure to ask the market vendor selling the nakai when they were caught. You can even request them to open a shell for you so you can check if the nakai inside looks fresh or not. Another great tip I learnt over the years from family is to throw out the shells that don't open. This means that that nakai is not fresh and is probably not safe to eat either. One last tip is adding baking powder before turning off the stove. It further softens the nakai which can sometimes develop a rubbery texture when cooked.
The recipe below is a family favourite and so easy to make. It is fried with onions and usually enjoyed with roti or dhal and rice. This dish is amazing with beer (can't go past a good Fiji Bitter or Gold); so refreshing!
Print
Ingredients
1 Heap Fresh Kai (River Mussels)

2 Large Onions – Cut Lengthwise

6-8 Garlic Cloves – Crushed

1 Sprig Curry Leaf (~ 8-10 Leaves)

¼ inch Piece Ginger – Crushed

1 Diced Bongo Chilli

½ Tsp Jeera (Cumin Seeds)

½ Tsp Sarso (Mustard Seeds)

¼ Tsp Methi (Fenugreek Seeds)

½ Tsp Haldi (Turmeric Powder)

½ Tsp Masala

¼ Cup Vegetable Oil

1 Tsp Baking Powder

Salt to Taste

½ Cup Water

Coriander Leaves (Optional)
Print
Directions
Add kai to a large pot and top with water. Place the pot on the stove on high heat and let the kai shells open up. Stir constantly. Discard any unopened shells after a few minutes of heating
Remove each kai from the shell and clean the inside of the kai. Be sure to remove the food particles and sand or grit. Rinse thoroughly
In a pan or wok heat the oil and add curry leaves, jeera, sarso and methi. Cook till they crackle and pop 
Add the chillies and onions and saute till onions turn translucent or are cooked halfway through
Add the garlic and ginger and cook till they start to brown
Now add the kai into the pan and stir, then add turmeric and salt to taste. Fry till it begins to catch on the pan
Lower heat, add masala and mix for 2 minutes. Then add the water. Cover and cook till the kai becomes soft. This may take about 15-20 minutes to soften. If the kai looks rubbery or is tough to the touch, add more water and cook till it has softened
Add baking powder and cook the kai for another 5 minutes
Remove from heat and slightly tilt pan sideways and scoop out excess oil
Mix in the coriander leaves and serve hot with roti or dhal and rice.