Kai soup is a very loved seafood dish in Fiji. There is always an abundance of fresh kai in the markets and so many dishes that can be made with this simple ingredient. I have also shared the fried kai recipe on the website, do check it out here.
One of the most underrated things to make with kai is soup. It is so quick to prepare and cook, easy and delicious. The taste of the river on a plate is best described by this dish. What makes it unique to Fiji is the distinct river taste the kai brings in any dish created with this amazing seafood.
I have eaten many different types of clams and mussels, in different countries too but nothing compares to the taste of Fiji kai. The picture below of the big heap of kai is that which was caught fresh the same morning from the Ba river. Local fishermen use tyre tubes and have great diving skills (without using diving gear!) and they collect kai from the river bed. When the weather has been stormy or if it rains continuously, visibility is low and many divers avoid collecting kai during such time. This explains the premium price of the kai in the markets and I would happily pay for the hard work of these men and women.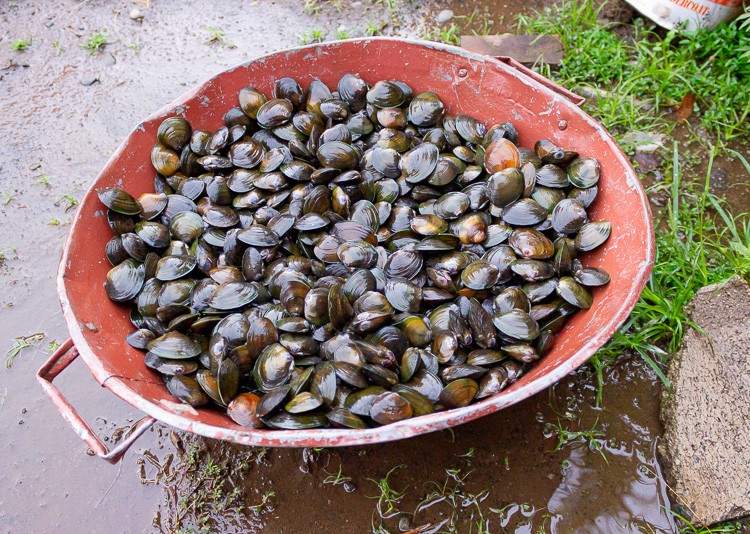 For true island style cooking, this soup is made with fresh coconut milk. But it also tastes good with canned coconut milk. If you do not like the taste of coconut milk in your soup or want to make it lighter, remove coconut milk altogether. It has a more salty, strong taste without coconut milk but equally yummy. It all depends on preference.
Enjoy this soup with freshly boiled dalo, rice or any other root crop. Personally, I prefer adding rice to my kai soup as it beautifully absorbs the flavour. I will also suggest adding a squeeze of lime to add that extra zing!
Print
Ingredients
500g Kai

1 cup coconut milk

1 large potato

1 bunch pak choi cabbage

1 carrot

1 brown onion

1 large fresh tomato

1 tbsp garlic ginger paste

1 tsp chilli powder

Salt – to taste

1 tbsp soy sauce

1/4 tsp MSG (optional)

1 tbsp oil
Print
Directions
Prepare kai by boiling on heat to open shells. Discard shells, remove the sand and grit inside the kai and set aside
Roughly chop all the vegetables (you can put in any vegetables you like)
In a large soup pot, heat the oil and add garlic ginger paste. Cook for 1 minute or till browning
Add kai and stir, cook for 3 – 5 minutes or till slightly cooked
Add the rest of the vegetables, except the cabbage (we will put this in 5 minutes before turning off the stove). Stir till combined
Stir in the coconut milk, salt, chilli powder, MSG, soy sauce and lower heat to simmer for 3 minutes
Now add water till all the ingredients in the pot are under water or to the consistency you desire. Turn up heat to medium and let the vegetables cook till soft
Check to see if potatoes break apart and if the kai has softened. If so, smash some potatoes (makes the gravy of the soup thicker), add the cabbage and cook for another 5 minutes
Serve with some rice, dalo, cassava or any side of choice. You can also eat the soup on its own.