Uto fry or fried breadfruit is a staple snack food item for people in Fiji. The breadfruit is a common ingredient in most Pacific Islander's diets. A true island food, tropical and bountiful on the islands, uto is nutritious, tasty and versatile.
The reason they are called 'bread' fruit is because of their starch content and the aroma it releases when cooked – similar to freshly baked bread. Just as a loaf of bread can feed a family, so can uto. It is so versatile as you can eat it as a side with almost anything, just boil it and it is good to go! It is highly sought after as you can also make fritters with it, desserts and even curry.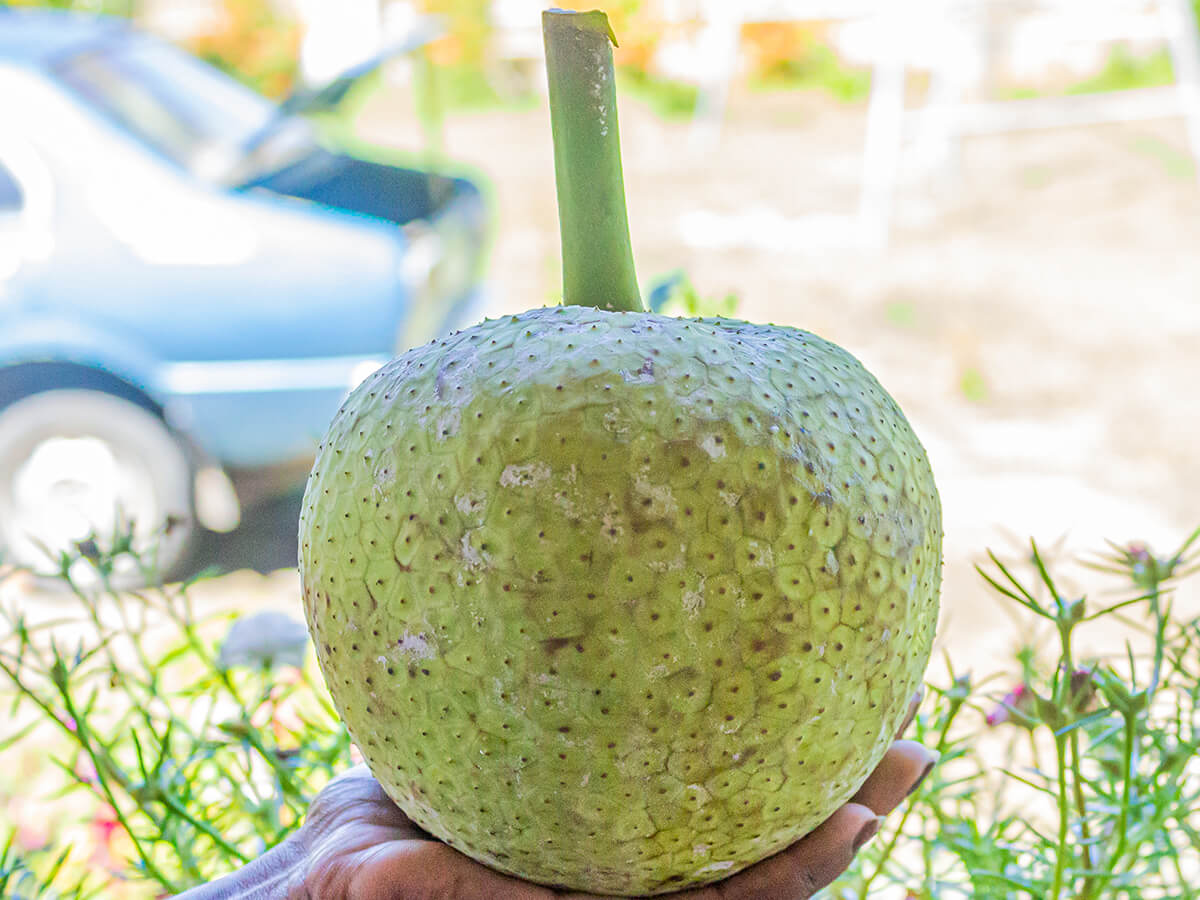 Uto fry is so delicious and tastes like an elevated, fragrant big brother of the potato fries. More like fragrant chips. Make sure you thoroughly coat the uto slices with batter. It should be a little thick but not too much. Thick batter will soak up excess oil while thin batter will lack the extra crisp and crunch to the fried uto. It's best to dip and immediately drop the uto in the hot oil and also to serve it as soon as it's cooked (unless storing it). To keep the fried uto fresh, let it first cool down then pack into an airtight ziplock bag or container. It will not be able to hold its crispy texture for too long so it is best to eat them as soon as possible.
Frying uto fritters must be done on high heat or else it will absorb too much oil and become saturated and greasy. Just imagine a piece of bread being fried in not-so-hot oil – the result will definitely be a soggy one. If using a deep fryer, keep the heat at 180 degrees and only lower if the coating becomes too brown too soon. If using a stove top, make sure your oil is nice and hot by testing it with a wooden spoon. If the spoon begins to form bubbles immediately, it is hot and ready to go.
Print
Ingredients
1 large breadfruit

½ cup flour

1 tsp turmeric powder

1 Tbsp Fresh Garlic and chilli paste

½ tsp Chilli powder (for colour)

Salt- to taste

Water – enough to make a runny batter

Oil for deep frying
Print
Directions
Peel the breadfruit and slice it into two halves vertically with the stem facing upwards. Slice each half further (vertically) into thin slices of about 5mm and remove the seeds from the core. Soak them in water and set aside

Meanwhile, make a batter with the rest of the ingredients and combine to make a slightly runny batter
Completely drain all the water from the breadfruit slices and pat dry with a clean towel
Heat the oil, dip each slice of breadfruit thoroughly into the batter making sure to coat it evenly
Drop carefully into the oil and fry till crisp
Serve hot with tamarind chutney or tomato sauce.