Baigan choka Fiji style is a delicious meal where eggplants or aubergines are flame grilled or roasted on an open fire. Fresh onions and herbs then add an extra level of zing and flavour and make it the perfect Fiji breakfast. The smell of eggplants on an open wood fired stove (chula) in Fiji, early in the morning truly awakens the senses. The family gathers around the kitchen, eagerly awaiting the fresh choka to reach the table along with just made roti and a cup of masala tea. Choka is a quintessential Fiji breakfast and there is nothing quite like it.
The eggplants used for this baigan choka recipe must be the bigger and thicker ones like in the pictures below. Skinny eggplants are not ideal for this recipe as it will burn and will not yield any substantial amount of 'meat' within it. The fresh varieties are often either the globe or Italian eggplants. Asian style eggplants are great for curries but not recommended for choka.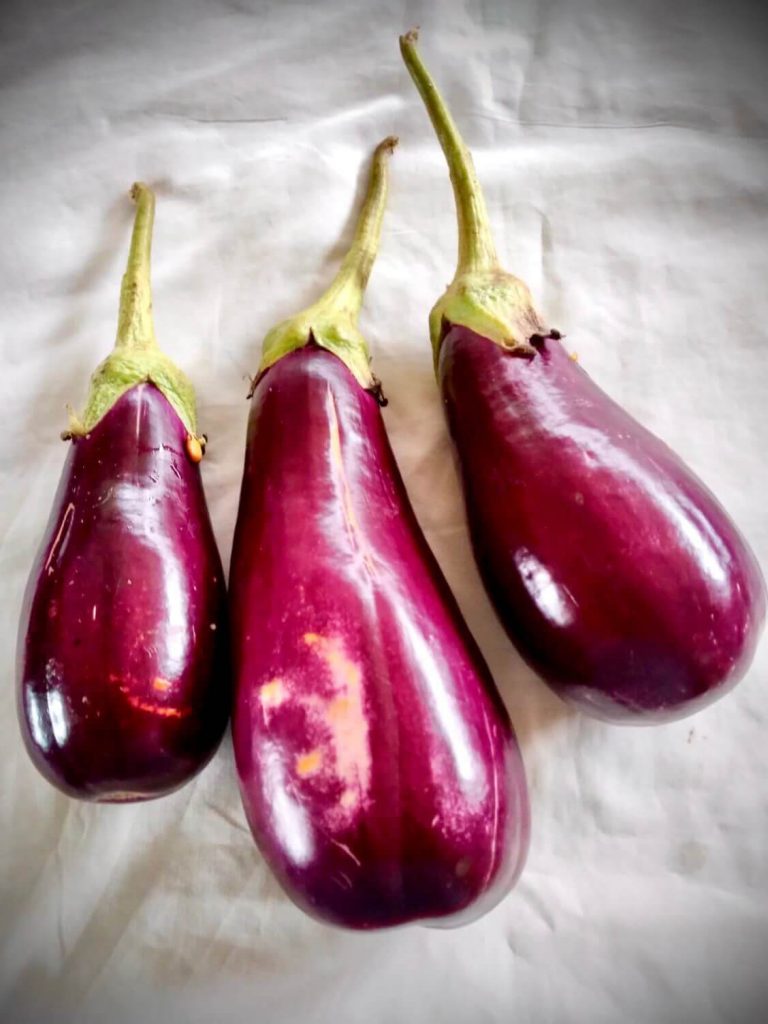 There is minimal cooking involved for this recipe and only requires the eggplants to be thoroughly cooked by flipping it often over an open flame. Using a household stove will work too but avoid using ceramic or plated cooktops as it will stick and burn on the hot plates and will have no smoky flavour or char. If you're not able to use any open fires, try using the grill function in your oven or pop it onto the grill of your barbecue.
Some European and Arabic countries also cook this type of meal but use their own local techniques such as adding a thick layer of olive oil on top or eating this meal on top of flavoured bread. In Fiji, we often eat this dish with fresh roti or as a side with a dhal and rice meal.
Print
Ingredients
3 Large Eggplants

Fresh Chillies to Taste

Handful of Fresh Coriander Leaves

¼ Onion, diced

Salt to taste

1/4 Tsp Lemon Juice
Print
Directions
Put the eggplants directly onto an open fire or gas stove or medium heat. Cook with skin on till the skin gets slightly charred. Turn often using tongs to avoid burning. Cover with a large pot to create steam to cook faster

Meanwhile, place freshly sliced chillies into a bowl and mix with onions and lemon juice
Remove eggplants from heat and peel off charred skin while hot. Use a spoon to scoop out all the flesh
Using a fork, mash the eggplants into a smooth looking paste and set aside
Add the eggplants to the bowl with onions and chillies
Chop coriander and add to the existing ingredients
Season with salt to taste and serve hot with roti or alongside dhal and rice.