Fried Bhindi or Okra Curry is a Fiji favourite and people of all ages and ethnicity love to eat it. Bhindi is also known as okra or lady's finger and 'gumbo' and is one of those vegetables that's just so delicious and easy to cook with. It is also packed with vitamins (B & C), folic acid, potassium, calcium and has a high amount of dietary fibre.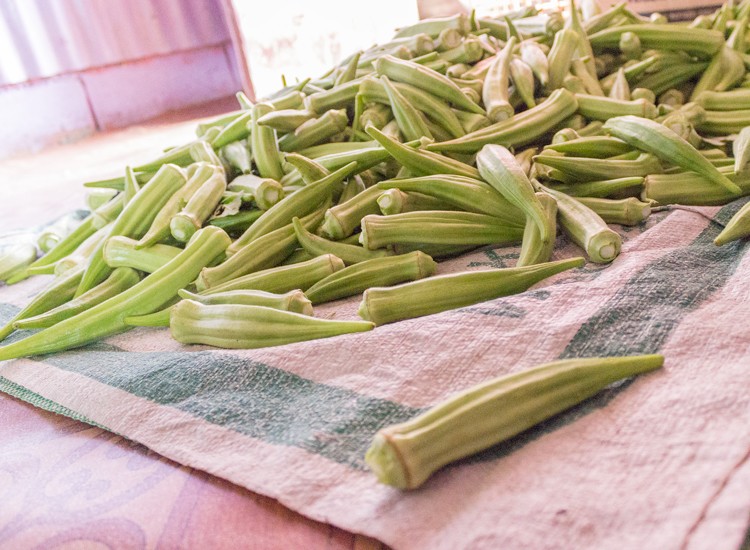 Every Saturday in most parts of Fiji, the farmers markets are packed with people looking for fresh vegetables. Farmers often harvest their produce before dawn or the day before and the vegetables are therefore so beautiful and fresh. You have to get in early to bag the best produce. It is highly competitive and most of the good stuff sells out pretty early in the day. One of the things you won't miss seeing in Fiji markets is the bhindi. Because people love it so much, farmers grow it a lot too. And as you can see in the pictures, the just-harvested bhindi looks so fresh.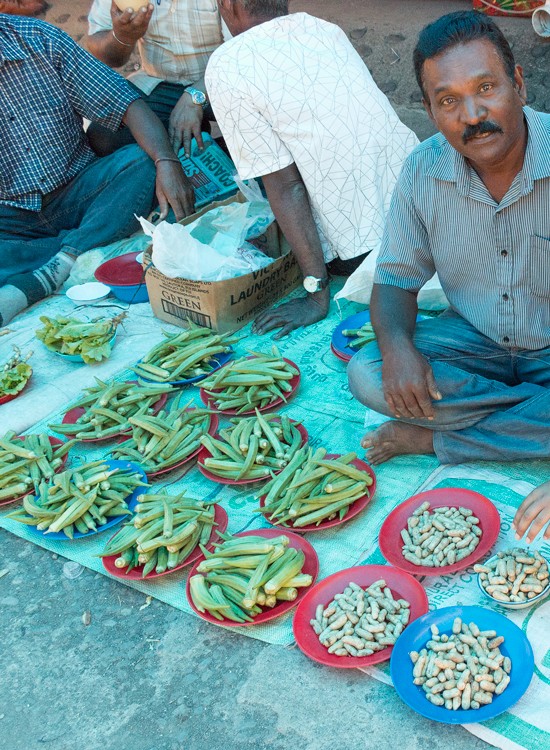 Many Fijian families cook certain things on a wood burning stove (chula). One of them is fried bhindi because it takes some time to crisp and the "Chula" gives it a delicious smoky flavour. As you can see in the picture below, this is a very authentic Fiji – Indian way to cook food. Sadly with modernisation, this may be a dying cooking method in Fiji. However, a simple construction of an outdoor wood burning stove can completely change the taste of your food. Give it a try!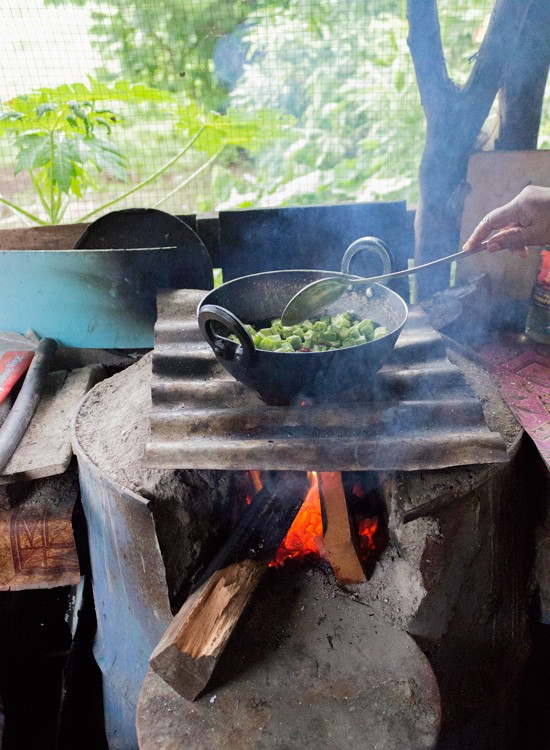 Owing to its nutritious value and flavour, fresh fried bhindi is a favourite breakfast for many Fijians. Many people love their fried bhindi crispy but some like theirs cooked to a bright green. This completely depends on individual taste and preference. Although this recipe will be made to the crispy version, by turning off the heat five minutes earlier you can achieve the green consistency. This vegetable often releases a slimy substance when cooking. This can alter the taste of the dish slightly. While some people don't mind this (those who prefer the green version), most would like to avoid it. For this, you must cook the bhindi till slightly brown (see below).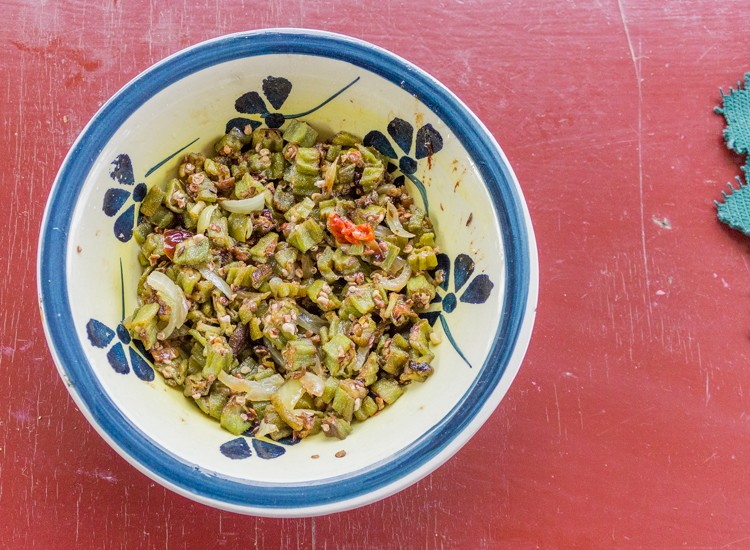 One thing to note is that this recipe will require a lot of oil to cook. You are essentially frying the bhindi to a crispy texture. But don't fret; you can always drain the excess oil using a colander. You can also just tilt your pan slightly and the oil will drain to the bottom. Or if you prefer to use less oil, just cook the bhindi a little longer (NB: It may not turn out very crispy).
Ingredients
1 Heap Bhindi (Approx 1kg)
1 Small Brown Onion – Diced
Fresh Red Chillies (Diced)– To Taste (6-7 Medium Heat Chillies – For Spicy Eaters)
1 Tsp Cumin Seeds (Jeera)
1 Tsp Mustard Seeds (Sarso)
3 – 4 Medium Garlic Cloves (Crushed)
1 Sprig Curry Leaves
¼ Cup Oil
Salt – to taste
Directions
Thoroughly wash the bhindi and then individually dry with a clean hand towel. This process is important as it allows all the dirt and moisture to be removed. You really do not want moisture in the frying pan while cooking
Then heat a frying pan on an outdoor wood fire (chula) or your normal cooking stove and add the oil. Once the oil is hot (check with a wooden spoon – when bubbles form, it's hot enough), carefully place in the cumin, mustard and curry leaves
Once they begin to crackle and pop, add the onions and chillies
Cook till the onions turn translucent and are slightly turning brown. Then add the crushed garlic and cook till fried and golden
Then carefully add the bhindi to the pan and mix through
Lower the heat to medium and let the bhindi crisp up. It takes quite some time and you need to regularly mix the contents to let it cook consistently
As soon as the bhindi is browning, take it off of the heat and drain the excess oil (using a colander or by tilting the pan for a few minutes)
Serve with roti or rice. It goes great with dhal and rice too.